365 meter above sea level Acquaviva lies among down hills roads toward Adriatic sea and it offers a nice and close opportunity (only 3.7 miles far from San Benedetto seaside) to go for a walk through the ancient and suggestive tortuous lanes of its medieval historic centre.
At the top of the historical city centre you will find the Rocca Medievale, a wonderful fourteenth-century masterpiece of ancient military architecture in Marche region. The Rocca has kept its magnificent beauties and today it symbolizes the town.
From the Mastio, the highest tower of the dungeon, you can enjoy one of the most beautiful sights that opens up towards the sea, the hills and the tops of Gran Sasso mountains.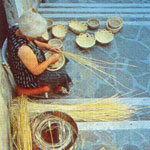 Acquaviva is a town that preserves its ancient artisan traditions. The art of producing straw baskets still survives: they are called pagliarole, typical hand-weaved baskets.
Among the most important events we point out the Palio del Duca, a medieval commemoration falling every first Friday of August, during which the two wards of the town, "La Rocca" and "Il Colle", compete both in ancient games.
In summer time, every Wednesday night of July and August, a small market takes place along the picturesque lanes where you will find craft made products and typical food on dozens of stands.