Grottammare is named after the toponym "Grotte a mare"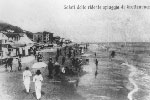 ("Caves to the sea") that refers to the natural caves opening from the east side of the ancient town's hill, once lapped by sea waves.
On the other side the tourist history of Grottammare as a famous health and seaside resort, starts in the seventeenth-century, when noble families of the period used to spend here their holiday-time.

The development of the urban centre along the seaside starts in the eighteenth-century, and it has been possible for more favourable social and economic conditions on one side and because of the continuous sea-withdrawal on the other one.

In the nineteenth-century Grottammare was a recommended place by many of the main doctors of the period; it was an ideal town for having convalescence and treatments for respiratory and dermatological diseases.
Some of the most famous personalities that chose Grottammare for a stay have been Girolamo Bonaparte, the younger brother of Napoleon, and the famous musician Franz Liszt who declared in the summer of 1868: "I will always keep in my mind the weeks spent in Grottammare as the best and sweetest of my life".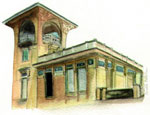 LThe charming villini Liberty, small villas in Art Noveau style close to the seaside, marked out the beginning of the twentieth-century, and still today are one of the artistic greatness achieved by Grottammare.
In the following years Grottammare has been further adorned with a lot of palms and oleanders along the promenade, wide pineta near the beach and, starting from thirties, the first facilities for entertainment and spare time like the Kursaal, a famous nightclub that livened up sixties nights of the whole Riviera Adriatica: today it's a museum.