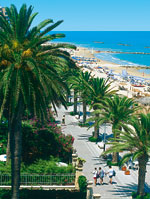 Also named the "Pearl of the Adriatic", Grottammare is situated in the middle of the "Riviera Picena delle Palme", in Marche region.
A beach with a very fine light sand, a transparent sea that sweetly shade off to the horizon, the flourishing green of palms and the candid colours of oleanders: all these features let your imagination wonder towards distant exotic destinations; Grottammare offers the same without going so far. Palms, pinewoods, oleanders and orangeries, the symbol of its mild climate: parks, gardens and the scent of the nature mix themselves into Grottammare and accompany you to long walks along the promenade, between the liberty style houses and the clear sea.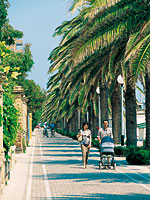 The ancient and the modern both overlook the sea: Grottammare is composed by two main urban wards, the higher and ancient "Borgo Antico" that lies on the hill overlooking the sea, and the downtown area that spreads to the southern coast for 4 km.
New cycle tracks are running along the cliffs linking up Grottammare and neighbouring towns, and they will let you enjoy many pleasant journeys among bar, bazaar and small markets during the day, or suggestive nightly walks looking for a gentle sea breeze. Since 1999 Grottammare obtains the award of European Blue Flag, assigned to those places that distinguish themselves by the respect for nature and by the quality of their sea and services.
From Grottammare you can also go on some short tours to the striking medieval towns of Piceno territory, where you will find a lot of history and traditions just a few kilometres from the coast.