Ascoli Piceno, also named the city of travertine, is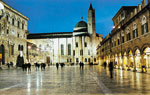 one of the most beautiful places in the whole Marche region: you can easily discover the artistic and historical treasures of this city-jewel and pleasantly breathe its suggestions just by looking at the buildings, the squares and the fronts of ancient houses.
The wonderful historic centre gets his elegance and harmony from the beauty of the celebrated Travertino Ascolano, a natural ivory-veined stone used for more than 2000 years to build the whole fabric of the city like buildings and paved squares.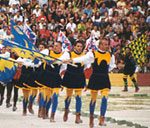 Ascoli was the ancient capital of Piceni people and it's elder than Rome. It shows the thousands facets of its glorious past life through the architecture of Middle-ages, Renaissance and baroque period; along its outstanding sights, Piazza del Popolo ("Square of the People") is the main symbol of the city, a typical "Italian meeting place" overlooked by the spectacular gothic-style church of St. Francis.
Ascoli is also famous for its "Oliva all'ascolana" ("Ascoli Stuffed Olive") and La Quintana, Ascoli's jousting tournament played between the city's six districts. that takes place between the end of July and finishes with a spectacular parade of fifteenth-century costumes on the first Sunday of August.
Many museums will help you to better know the historical and artistic treasures of Ascoli Piceno and its past times.