Offida is a pretty town on the hills, 18 kilometres far from the sea, that has kept the same urban structure it had during the period of Middle Age.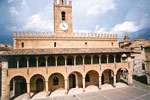 In its historic centre, one of the most beautiful in the whole Piceno country, you can admire the old Town Hall, that houses the 'Golden Snake Theatre', and Saint Mary's Church: both of them are held into marvellous walls with merlons.

The Town Hall is a brickwork building very elegant with well balanced proportions and it's enriched by a fourteenth-century merlon-crowned tower. The Church of Saint Mary is the main monument of the town, with a wonderful roman-gothic style crypt, and it's situated on a magnificent cliff.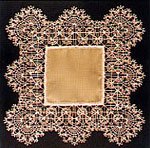 Offida is also famous for its Bobbin Lace, a form of weaving, where each thread is attached to a wooden bobbin so its individual path can be controlled. Still today if you walk through the lanes of the centre you can meet women working the lace outside their houses. It's an ancient art that was handed on from mother to daughter.
At the moment some of the most beautiful works can be found in the 'Lace Museum' housed by Pagnanelli Palace together with the Archaeological Museum and the Town Picture-Gallery. Also important is the museum titled to Aldo Sergiacomi (1912 -1994) that contains the works of the sculptor born in Offida.
During Friday nights in July and August a suggestive market with craftsman's stands takes place.