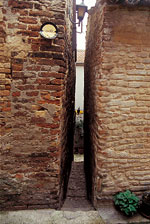 Ripatransone stands 494 meters above sea level and ten kilometres from Grottammare coast. It is named "Piceno's Balcony" because of its wonderful 360 degrees sight that opens all over the surrounding country.
The panorama let you appreciate the variedness of the landscapes: from the sea up to the hills with vineyards and olive groves and far towards Sibillini Mountains, 40 kilometres distant.
The fifteenth-century walls keeps an old town centre as it was a jewel: besides the urban medieval main structure, typical of all the towns in the hinterland, it is possible to admire some Renaissance and Baroque style buildings, in particular along the main street.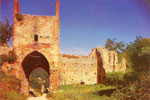 Ripatransone is also a small town rich of culture: as the third pole of museums of Piceno it owns a great historical and artistic legacy, well preserved in its museums. The major one is the Archaeological Museums, with its rare findings from prehistory and from Picena and Roman cultures.
Visit the Picture-Gallery with its fifteenth-century paintings and some refined architectonic works like the recently renovated Mercantini Theatre and the Amphitheatre. During the summer season you can take advantage of free guides in museums.
In the historic centre of Ripatransone, during the first Sunday night after Easter, takes place 'The Burning Horse' a pyrotechnic event born in seventeenth century: the shape of a horse runs in the middle of a crowded square spitting out rockets and catherine wheels to remember the festivities of Our Lady of Saint John in 1662.
Among the other curiosities you will find in Ripatransone the "Most narrow alley in Italy" just 17 inches wide between two medieval buildings.