The Borgo Antico (Ancient Town) is the intimate part of Grottammare and it lays along the southern side of the hill that overlooks the town centre.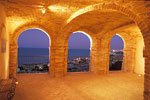 During the past centuries High Grottammare has kept its medieval structure, its pretty brick-walls houses with their warm colours, the original pavement and its valuable churches and mansions.
The shape of the place, mixed to tone of the different elements, give the visitor a special suggestion.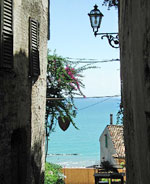 It's the ideal place to go for a romantic walk and for a sight of arts and architecture of the celebrated past times of Grottammare. Here you will discover a wonderful seascape and a splendid view of the town centre.

In the ancient town there are two important museums that houses works and other objects that symbolize arts and history of Grottammare.