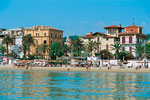 The word 'Liberty' was used in Italy to indicate that kind of floral style better known with the French 'Art Nouveau', the style that influenced the architecture and the art of Europe at the beginning of twentieth-century. The typical motif of Liberty style is the curved line that seems to spring to life and 'grow' into plant-derived forms.

The most of the villas are situated along Viale Colombo (ex Viale Marino), the northern promenade. It has been recently renovated into a Carrara white marble and porphyry pavement, adorned by as many luxuriant palms as its length.


Moving southwards along Viale Colombo there are the Pompeian-red painted 'Villa Marucchi', 'Villino Alessandrini', an example of mountain architecture transposed along the seaside, 'Villino Ida', 'Villino Ornella' and the better known 'Villino Matricardi-Cola', designed in 1913 it symbolizes the Liberty époque of Grottammare.

The most recurring elements of Liberty architecture are the turrets with balcony, the steep slopes, the frescos and the majolica with flower decorations.

A curiosity: the tower of 'Villino Matricardi-Cola' is the logo of the Tourist Operator Association Grottammare.