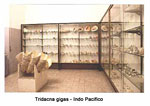 The Museum Where are exhibited huge aquariums, with approximately five thousands collected from every corner of the planet. The Museum has been founded in 1956 by a group of friends keen on fishing that started to collect various species marine being. In 1997 they donated the museum to the city of San Benedetto.

The collection is composed by nearly 6.000 different species of fish, shellfish, molluscs, cetaceans, fossils and a rich marine herbarium. The exhibition wants to give the visitors the possibility of admire the rich and heterogeneous marine fauna of the globe. The specimens comes not only from Adriatic or Mediterranean Sea, but also from far away ones, and they are evidences of the lively past period of the oceanic fishing in San Benedetto del Tronto.



The Museum makes use of depths, ship models and aquariums to introduce you to the underwater world.
The Ichthyic Museum is one of the most important scientific realities in Piceno country, and it is continually being enriched by new findings. Every year it's visited by 20.000 people: among them there are tourists, students and eminent academicians and researcher.