The Museum is situated in the town centre and lays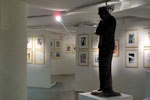 inside the Kursaal, one of the most exclusive clubs during the sixties.

The Museum keeps and exhibits works, drawings, comical and satirical illustrations and movie posters dedicated to the myths of the Italian comical performances and to some famous personalities of show business.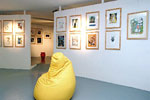 Last summer the museum housed an exhibition on famous Italian artists like Lucio Battisti, Tenco, Paoli and Bindi that reminded them through records, photos and publications of past sixties music.
Opening timetable:
1-16 July Friday, Saturday and Sunday 16:00 – 19:00
17 July - 31 August Everyday 18:00 – 20:00 / 21:30 - 23:30
June - September Friday, Saturday and Sunday 16:00 – 19:00
From October to May Saturday and Sunday and holidays 16:00 – 19:00