The museum lays inside the recently renovated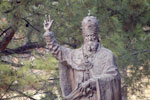 eighteenth-century church of S. John the Baptist that overlooks on Peretti square, the main square of the old town.

The museum is mainly dedicated to the memory of Felice Peretti, a strong personality man, born in Grottammare in 1521 and ascended to the papal throne as Sisto V.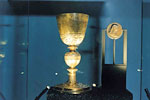 To his native town Felice Peretti bequeathed a lot of valuable objects that testify his close bond with his country. Some of the most important works are an old priviale for liturgical celebrations, a chalice with paten and a medal with the effigy of Camilla Peretti, the sister of the Pope.

There are furthermore some precious paintings by Vittorio Crivelli and Vincenzo Pagani, two famous artists from Marche.