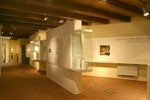 The Museum stands inside the Tower of the Battle, a sixteenth-century defensive rampart of the old town of Grottammare.

A permanent exhibition of Fazzini works lays inside the Museum. Fazzini was born in Grottammare and has been a world famous sculptor: he is the author of the "Resurrection of Christ", the magnificent sculpture that overlooks the stage of the Paul VI Audience Hall (Nervi Hall) at the Vatican. That work required seven years to be finished and from it is possible to find out all the mainly artistic themes of our "wind-carver".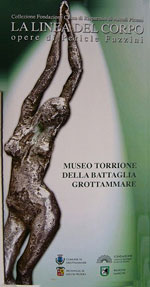 The exhibition will let you better know Fazzini's works and complex personality during his most mature period of artistic life: a period full of mysticism and natural sensuality in which the artist had been capable of both epic exploit and small masterpieces in the space of just a sheet of paper.

The collection is divided into several thematic categories in order to simplify your understanding and it's composed by bronze sketches (the 'Resurrection of Christ' among all of them), drawings, lithography, jotters and other valuable objects that testify the inspiration of the author.
Opening Timetable:
July - August Everyday 18,00 - 20,00 and 21,30 – 23,30
June - September Friday, Saturday and Sunday 16,00 – 19,00
From October to May Saturday, Sunday and holidays 16,00 – 19,00