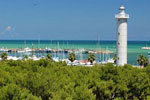 Driving along the five kilometers-long promenade, one of the most suggestive in Italy, you will understand the reason why this place is named "Riviera delle Palme" (Palms Riviera): it is bordered by a line of 7000 palms of twenty different species, alternated between oleanders and flowers.
The promenade is wonderful: it has been recently renovated and its 8 kilometers long cycle track will make you fully enjoy the spectacle offered by a luxuriant vegetation.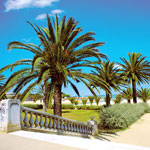 San Benedetto, a city with 50,000 inhabitants, besides having an important fishing port and a lively fish market that sells sea products over entire Italy, is one of the most visited seaside resort along the middle Adriatic coast, and it is loved for its long beach, its palms that grow even on the sand and for its wide pineta.
At the port it is also possible to rent some tourist boats and taking to the open sea to enjoy some refreshing bathes or savoury fish tastings offered on board.
A lot of evidences of the importance of the sea for the history and the economics of San Benedetto came from the sea, and now they are preserved into the "Ichthyic Museum" and the "Amphorae Museum".